---
Who are we?
For over 30 years, we have been dedicated to helping safety managers, safety directors, and construction workers maintain an injury-free workplace. Our mission is to ensure that manufacturers can produce, transmit, and distribute their products without any harm to their workforce.
Your Safety is Our Priority!
Through our comprehensive Safety Training, Safety Inspections, and Product Inspections, including Fall Protection Equipment Inspections, we have been a trusted partner in creating a safe and secure environment. Join us in our commitment to safety and let us help you achieve a workplace where everyone goes home safely every day.
---
Industry Spotlight Solutions...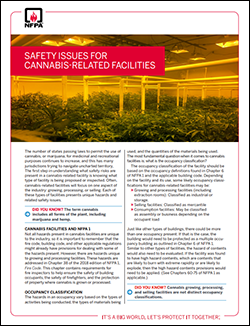 Safety Issues for Cannabis Growing Facilities
Many cannabis or marijuana growing facilities assume growing falls under agricultural safety. However, there are unique hazards to growing and processing cannabis.
Download this free resource that gives an overview of these different types of facilities and the unique hazards and related safety issues to consider.
Save money with ease - Striping Machine
Become an expert while saving money? YES! These airless walk behind striping machines are extremely easy to use. Your workers will quickly become experts while making the facility safe. Built with airless technology. Ideal for small to medium size areas such as facilities, parking lots and pavement areas.
---
Do it yourself solutions!
---
Our Latest Safety Solutions
Advanced Safety & Industrial Supply is America's trusted source of Industrial, Welding, Safety, Energy, Construction, Janitorial & MRO products and supplies. We perform product safety inspections, fall arrest safety equipment inspections, safety training, facility safety audits and more. Our customers include manufacturers, construction contractors, Public Works & Individuals. All businesses working on keeping their teams and facility free of safety hazards.