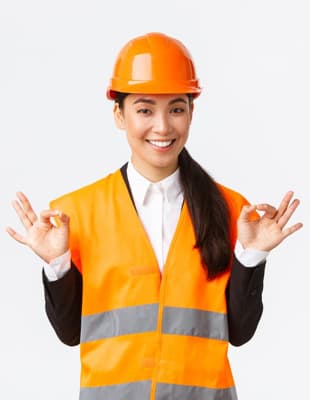 Does your team have what they need to protect themselves?
Wearing sutiable protective clothing when welding is critical to stay safe. The use of high heat in the welding process requires heat resistant clothing and we have you covered!
Work safe by having the latest technology of welding equipment. We ensure full compliance with safety regulations by offering safety equipment, safety training and safety equipment inspections.
Be SAFE
The welding process produces visible smoke that contains harmful metal fume and gas by-products [learn more].
Wear appropriate welding personal protective equipment and welding area protection products. These articles help prevent injury to workers or avoid damage to equipment and surfaces during welding.
When the welding and metal fabrication demand heat shielding, dexterity, tactility and protection demands of all welding and metal fabrication applications. Caiman > Ironcat >
Download OSHA Standards Fact Sheet for suggestions on protecting welders and coworkers from exposure to the many hazardous substances in welding fume.
---
Welders touch everyone...
Take a moment to see SOME of the reasons we NEED Welders & want to keep our Welders Safe while they work > Watch Video