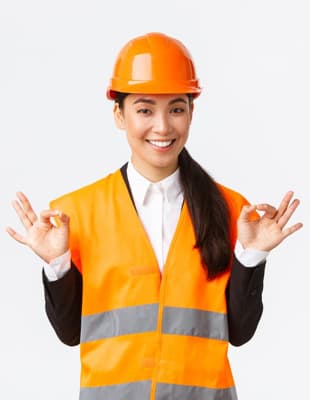 PREVENT EYE INJURIES
Keep your workplace safe by having a good supply of safety glasses or safety goggles available for your team. Choosing eye protection that is comfortable and is fogless is the best way to ensure your team will wear the eye protection throughout the whole day.
We are available to help you choose the right eye protection for your facility.
Go FOGLESS! #1 top choices in eye protection
Stop looking through fog while working. Lenses fog for many reasons, all of which are related to ambiant temperature and moisture in the air. When a rapid temperature change occurs, micro-water droplets in the air will collect on untreated lenses, causing the lenses to fog and impede vision [Learn more about this technology].
adians
PREVENT EYE INJURIES
The Safety Glasses that don't sacrifice comfort or vision to stay safe while working.
Removable Head Strap
Provides an adjustable goggle-like fit
Anti-Fog Polycarbonate Lens
Provides impact resistance and fog control
Rubber Nosepiece
For all day comfort
Eyewear Temples
Easily Snap-In
Closed Cell Foam Insert (FJCT)
Protects against airborne dust and debris
Radians Cuatro™ 4-in-1 Foam Lined Safety Eyewear has interchangeable head strap and temples that can be use with or without foam insert - Order Now
Learn more about Elvex the most dynamic and user focused safety goggles.
Elvex Go-Specs Goggles - Black Foam Lined Frame-Clear Anti-Fog Lens
Length adjustable elastic fabric strap.
EVA Closed cell foam is long lasting, resisting body oil and sweat.
Dual ventilation ports around lens and large side temple ports allow air circulation for superior anti-fog performance.
SuperCoat anti-fog, anti-scratch, anti-static long lasting washable coating.
99.9% UV Protection
Elvex mesh safety glasses - why mesh? Learn more
Advanced Safety & Industrial Supply is the most trusted source in industrial products. Protect workers by providing safety glasses that don't fog. We supply fogless eye spectacles for any industry.
Tired of looking through scratched safety glasses? We have scratch resistant, fogless safety goggles. These Go-Specs Goggles offer all day comfort.

Bouton Optical (Fogless Technology)
When you are transitioning between warm and cool environments you need Bouton Optical. It is just anti-fog. This new technology provides the ultimate fog preventive today.