NIOSH Approved N95 Particulate Respirator
Provides at least 95% filtration efficiency against solid and liquid aerosols that do not contain oil. TC-84A-160
• Soft foam nose cushion
• Contoured formable aluminum nose-clip
• Smooth latex-free polymer headstraps won't catch on hair. No pre-stretching needed. • Safer staple-free construction
• Collapse resistant double-shell construction
• More durable, double-shell construction for long life and better value
• Item #GSN1730
• Made in U.S.A
---
NEW 3230 Foldable N95 Disposable Respirators
These new N95 Particulate Respirators provide at least 95% filtration efficiency against solid and liquid aerosols that do not contain oil.
• Unique design - fold for easy transport, stoarge and dispensing, staple-free
• Made from high-quality filter media that undergoes constant quality testing
• Durable construction for long life
• Smooth latex-free polymer headstraps won't catch on hair
• Made in USA - Middleboro, Massachusetts
• NOISH Approved
• Item #GER-3230
• 50 PER BOX, 4 BOXES/CS (200/cs), 96 CASES/PALLET (19,200/pallet)
---
Why choose Gerson Masks?
COMFORT
Gerson half masks are superior to leading national brands because NOSE is made from SOFT TPE rather than rigid plastic.
VALUE

Gerson's value pricing on all respiratory products is very competitive against national brands.
NIOSH APPROVED

NIOSH Approved masks meet all government safety standards.
NIOSH Approval is pass/fail, which means there is no higher-quality approval.
Need A Powered Air Purifying Respirator?
Overwhelming evidence shows that workers that feel safe reduces emotional stress and thus improves personal well-being in workers and patients. [Learn more]
PRIORITIZING FOR ORGANIZATIONS ON THE FRONTLINES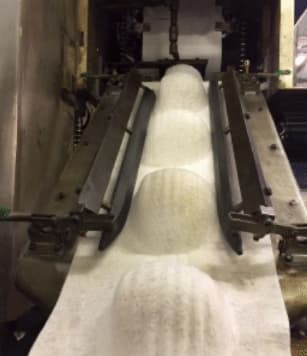 HIGH SPEED AUTOMATED MANUFACTURING
Middleboro Massachusetts
Gerson Designs, Engineer And Build Our Own Production Machinery
---
Filtering facepiece respirator
A negative pressure particulate respirator with a filter
NIOSH Approved Respirators
VS
Non-NIOSH Approved Nuisance Dust Mask
Resource:
OSHA "Solutions: Nuisance Dust"
OSHA "Numerous questions on filtering facepiece/dust mask respirators"
---
We are always looking for ways to keep our frontline workers safe!